New Tamil Series on Sony LIV "Kaiyum Kalavum" 2022 Review- Are you a believer in the magic of the Universe? Here is a series that has a theme of magic for you. As an Indian, most of us believe in the previous life theory and believe fate is the one that creates the flow of our life. This kind of storyline always attracts our attention.
This new Tamil series "Kaiyum Kalavum" explores how fate controls the character as its puppet and makes the characters dance by its way.
The New Tamil Series "Kaiyum Kalavum" was directed by Roju. Kalyan Subramanian produced the film and Sandeep V Vijay has done the Cinematography. This dark comedy thriller drama series streaming on Sony LIV on November  4, 2022. The background music was done by  Satish Raghunathan and the songs are composed by KS Sundharamurthy.
'Kaiyum Kalavum' Overview:
| | |
| --- | --- |
|   Title | Kaiyum Kalavum |
|  Release Date |  4 Nov 2022 |
| Streaming Platform |  Sony LIV |
| Directed by | Roju. Kalyan Subramanian |
| Produced by | Sandeep V Vijay |
| Cast | Rohit and Sanchana Natarajan other. |
| Language |  Tamil |
|  Audiance Review |  3.5 ⭐⭐⭐ |
'Kaiyum Kalavum' Cast:
Sanchana Natarajan
Madonna Sebastian
Ramya Nambessan
Rohit
Senthil
Karu Palaniyappan
Vivek Prasanna
Vijay Adiraj
Avinash Raghudeavn
Chaams
Jeeva Subramanian
Vikas
Gajaraj
James Thompson.
'Kaiyum Kalavum' Story
As human beings, we always desired to have something which is far away from our hands. It may be small or big like buying a house, a new iPhone, a trip to foreign countries, publishing a book, etc., recently teenage boys desires to travel to Ladakh for which even they don't know the exact reason.
But here in the series the male lead Rohit acts as a destroyer of someone's desire. Our female lead is a pickpocket thief who had bad luck with everything she does. Is the universe trying to connect them?  Did the circumstances help them to fall in love with each other?  Let us find more information on the lives of Roju and Anbu.
The series opens with the narration of an ancient story. In that story, there is a king who wishes to watch a stage drama. The members of the drama crew include a father, a wife, a bookworm, a hunter, a widow, and a demoness. During the performance, two actors spoiled the play to fight over the spotlight. The king became angry at their behavior and cursed them. The man got the curse of red blisters on his hand and the woman got bad luck for her entire life.
The only solution to their curse is to fall in love with each other. So in the present time, the Universe helps them to meet by chance and made them head over heels for each other. The role of main lead Rohit was played by Roju the director himself.
As a thief, he destroys someone's desires and steals their desirable things. Whenever someone mention their desire, he got itchy on his hands. After destroying the desires of someone his itchiness got stopped. The female lead Anbu is played by Sanchana Natarajan. She played the role of an unlucky pickpocket girl who always steals an empty wallet. She always got scolded by her thieves' family for being clumsy. Though her clumsiness makes us laugh, the emotions she carried as an unlucky girl melt our hearts. The characters who are around the main leads did their part well and played an important role in the lives of the main leads.
Both of the leads create a new problem and eventually solved them together without their knowledge of togetherness.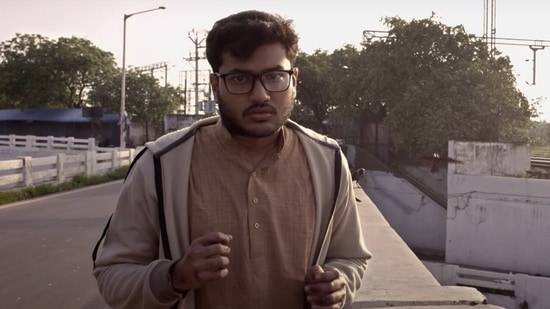 'Kaiyum Kalavum' Review
There is no place for logic in this series. This is not a usual love story of a boy and a girl who falls in love at first sight. Even the main leads don't meet face-to-face with each other for some time. They even don't know the existence of each other. But they played a vital role in each other's life without their knowledge of themself. At last, Roju fails to disclose the information about the cure for the curse from ancient times. Though, the series Kaiyum Kalavum is worth watching. It will be liked by liked from viewers of any age. If you want to experience the magic of the Universe then watch "Kaiyum Kalavum"  on Sony LIV.
Also Read: Ratchan: the Ghost (2022) Tamil Movie on Netflix | Review